Details
9:30am to 12:30pm
Food & Beverage
Easter Brunch for Sunday, April 4, 2021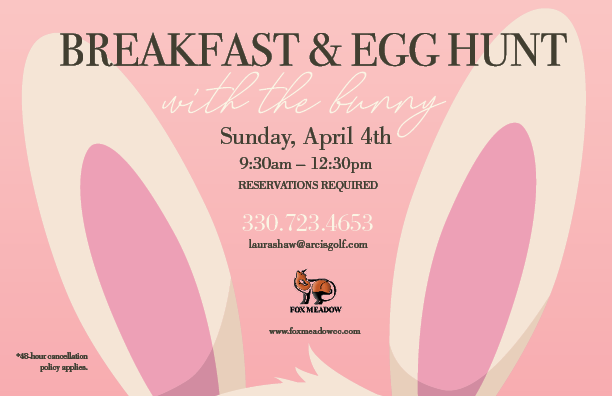 Our annual Easter Brunch will be a plated meal this year.
Three potential Easter Egg hunt times (based on reservations numbers)
o 10:15 – 10:30
o 11:45 – 12:00
o 1:15 – 1:30
The Easter Egg hunt is held exclusively for those that will be dining with us. We appreciate your cooperation.
OMELETTES - served with toast & hash browns $19.95


Full Bloom: broccoli, onions, bacon, feta
Romano:
bacon, sausage, pepperoni, marinara, mozzarella

Pellegrino:
sausage, onion, mushroom, white cheddar

Campanile:
peppers, onions, ham, american cheese

Springtime:
tomatoes, scallions, asparagus, goat cheese

GRIDDLE - $19.95
Brioche French Toast
warmed fresh berries, whipped cream, syrup
Homemade Multigrain Pancakes
short stack or full stack
Pancake Fillings
blueberries, banana walnut, chocolate chip
Pancake
Toppings
mixed berry, whipped cream, grilled bananas
VERMONT-STYLE BREAKFASTS - $24.95
The Cottager:
three eggs over or scrambled, house made corned beef hash, Irish soda biscuit

Woodsman:
8oz sirloin steak, two eggs, hash browns, white cheddar cheese sauce

Eggs Mansfield:
scrambled eggs, spinach, two sausage patties, hash browns, white cheddar cheese sauce, English muffin
COMBINATIONS - served with toast - $24.95
Mom's:
scrambled eggs, two pancakes, two bacon, butter, syrup

Dad's:
eggs over, two pancakes, two bacon, two sausage links, hash browns

Uncle Tony:
"skillet style": three eggs, two bacon, two sausage patties, grilled onions and melted cheese over top
BENEDICTS- add a side of spinach or asparagus to any Benedict $24.95
Classic:
poached eggs, ham, english muffin, hash browns, hollandaise

Red Pepper:
classic with roasted red pepper hollandaise

Cape Cod:
classic with crabcake in place of ham
KID'S MENU- $9.95
#1:
cheesy scramble, French toast, bacon, hash patty

#2:
short French toast or pancake, berry topping & whipped cream, bacon

DESSERTS- courtesy of Gardner Pies

- Apple Crisp Pie
- Blueberry Pie
- Chocolate Peanut Butter Pie